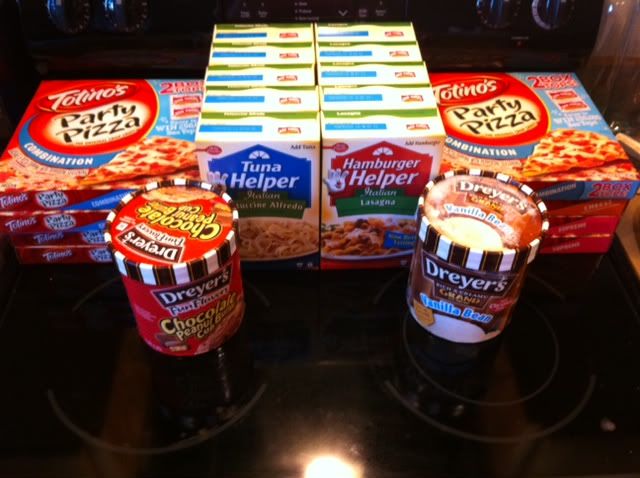 Today was another successful day!!! I know... two shopping trips in two days, not very frugal, but I'm just getting the hang of this and I needed time to go home and figure out some deals. Which, I think I'm a little too consumed by this right now because last night, laying in bed, while trying to fall asleep, all I could think about was what deals I was going to get today!
So, a little about the deals... This week the items I got are not the healthiest, which is one of my goals right now, but I wanted to get some stock up for over the next several months. Hopefully next month will have more healthy items.
Here are the details:
Transaction 1
10 boxes Hamburger Helper $10
$5 Catalina (from 8/15 trip)
$2 Catalina (from 8/15 trip)
Total: $3.00
Received $5 & $2 Catalina
Transaction 2
8 Totinos $10.00
2 $1/4 Coupons
$5 Catalina (from T1)
$2 Catalina (from T1)
Total: $1.00
Transaction 3
2 Dreyer's Ice Cream 2/$6
Total: $6.00
Received $4 Catalina
In the end, I did not get a Catalina coupon from the totinos, which I thought I was going to, but I think I had to buy 10 to get it. :( Also, I should have done my transactions in a different order. I should have done the ice cream second and the totinos last, then I could have used my $4 catalina coupon. Oh well, live and learn. It was only my second time.
And for anyone not familiar with what a Catalina coupon is, here's a picture: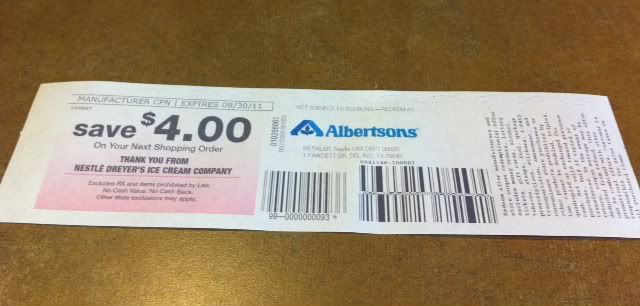 All in all, here's what I got:
10 boxes Hamburger Helper
8 Totino's Pizzas
2 Dreyers Ice Cream
For a total of $10 + $4 Catalina coupon toward my next purchase