For the Momma that's always on the go, these are the perfect last minute goodie to throw together for guests or in the kiddos lunches. They are quick, easy, and best of all... Delicious! They only have three main ingredients and endless options for toppings.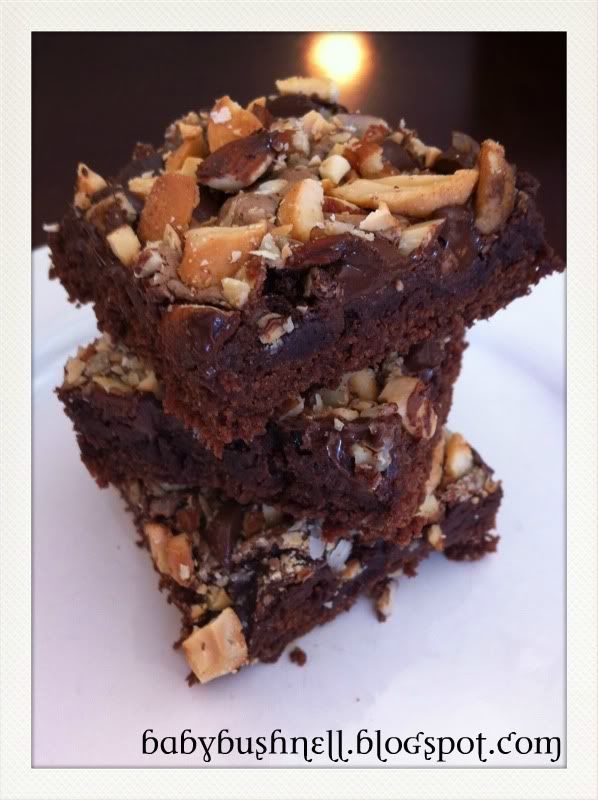 I chose to top them with semi-sweet chocolate chips and chopped mixed nuts. They are to die for!! Other toppings that would be wonderful are chopped Reese's Peanut Butter Cups, white chocolate chips, or peanut butter chips. The cute little white, pink, and red M&Ms would be a yummy Valentine's Day treat for your honey! No matter what topping you choose, these are sure to be a huge hit!
Last Minute Gooey Nutella Brownies
1 cup Nutella spread
2 large eggs
9 tablespoons flour
1 cup your choice of toppings
Preheat oven to 350º
In a medium bowl, whisk Nutella and eggs until smooth. Add flour and whisk until completely incorporated.
Spread batter into a greased 7x11 brownie pan. Sprinkle generously with your choice of toppings.
Bake for 14 to 15 minutes or until a toothpick comes out with moist/wet crumbs stuck to it (you'll want these nice and fudgy). Cool completely on cooling rack. Serve immediately or store for up to 3 days in a sealed container at room temperature. Enjoy!
This recipe will be featured on
Grants Pass Macaroni Kid
&
Medford Macaroni Kid
. Check out Macaroni Kid to find all of the kid friendly and family friendly events and activities in your area!